AUSSIE RULES
Maritimo's S59 is seaworthy, safe and highly functional.
By Kevin Koenig
AUSTRALIAN BOATBUILDERS tend to infuse their vessels with a certain DNA: They are ruggedly built, entertainment-oriented and low-fuss for owner-operators. To that end, the Maritimo S59 is a quintessentialy Australian yacht. The Maritimo's beaminess jumped out at me when I tested her in the waters just off Sydney Harbor. At 17 feet 11 inches, her beam actually makes her wider than her big sister, the S62, which is 11 inches narrower.
Maritimo put the added space to work in terms of layout,features and creature comforts. Her cockpit has bench seating spanning the transom that can fit six people. That area also has a Twin Disc express joystick system to use during docking, as well as stainless-steel handholds running along the gunwales for added safety when walking in a rough seaway or while loading and unloading provisions at the dock. A slick JL Audio sound system provides the tunes for any fans of the Australian band Men at Work.
The yacht's engine room has 6 feet of headroom throughout — not a trait seen on all express cruisers this size. The sole is painted with gelcoat to make spotting spills easy, and there's a freshwater tap to starboard.
The S59 has a single- level main deck and no flybridge, a design that Maritimo says will appeal to a wide age range of boaters. Older yachtsmen don't have to subject creaky knees to extra steps, and younger families can have everybody on one level, for safety and fun. The one-level living also should speed up cleaning at the end of the day, and should require fewer people to run the vessel.
The boat's air draft of 12 feet 6 inches is designed to make boating possible in regions with low bridges. We didn't have to deal with any of those as we splashed along under bluebird skies on the Australian coast at 25 knots in rolling 3- and 4-foot swells. The yacht's hull simply ate them up. And at slow speeds, the joystick steering was responsive and powerful, making docking and other tortoise-paced maneuvering easy affairs.
No surprises there: Maritimo is known for building boats that all but dance with the ocean. And with the S59's focus on comfort, safety and ease of use, all everybody on board has to do is sit back and enjoy the ride.

The number of turns it takes for the Maritimo S59's wheel to go from lock to lock. The boat has the same hydraulic steering system as the Maritimo Offshore Racing boat.
---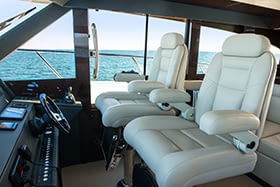 DRIVE IN STYLE
Our test S59 had a single Platinum Series helm seat by Pompanette, though the yacht can be ordered with two, Pompanette offers two versions, in standard and narrow widths along with an optional footrest.
---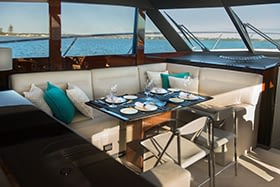 WHERE THE FINE DINE
The salon has an L-shaped dining settee for four forward and to port, with views all around. The table has hidden wine stowage in its center that can fit 12 bottles of the owner sfavorite vintages.
---
WHAT'S COOKIN?
Like many galleys on Australian yachts, the Maritimo S59's is located aft to serve the yacht's interior and exterior spaces. A pantry and refrigerator can stow enough food for longerjourneys, while the island counter allowsfor ease of movement around the area.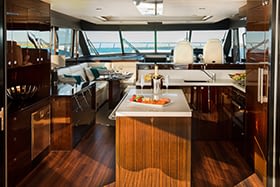 ---